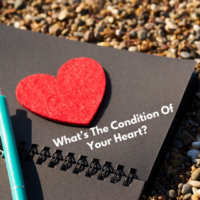 There was a time where God revealed the condition of my heart. It was several years ago but I will never forget the image He showed me in a vision.
I thought I was in a better place mentally. I believed I was doing great and heading along a path where absolute healing from past hurts had already occurred, but one day, God showed me that even though everything looked good on the outside, the inside didn't match. My heart was infected.
The Holy Spirit showed me in a vision, that my heart was not as bright as I thought it was. Instead, it was darker than a normal heart. It was abnormal in shape. And it had worms in it. There were no words given by the Holy Spirit but I knew what He was saying. It was as though the entire message was downloaded to me and I automatically understood that healing had to happen. Forgiveness needed to be operated in. Love needed to abound. And Gods grace and mercy was being required of me.
I couldn't see how my own heart could be as badly infected as it was. On the outside, everything appeared to be just fine. I was in better physical condition. My marriage was great. My friendships were nicely developed, but even though all those things were great, the Holy Spirit still revealed to me that the condition of my heart wasn't right.
The amount of pain that was carried.
The anger that was present.
The indifference I felt towards others.
The walls that I had up.
My Judgemental tendencies.
My lack of patience.
And even my lack of love.
These were all things I battled with because I didn't guard my heart against my own thoughts and the actions of people.
The Bible says in Psalms "who may ascend unto the hill of the Lord, who may stand in His Holy place. He who has clean hands and a pure heart…."
Truth is…hurt goes both ways. Misunderstandings happen and painful experiences accumulate. And when you don't guard your heart against unchecked emotions, you end up holding onto the pain longer than you should. Often, when incidents occur, it would be best to personally set a time limit to how long you'll carry your pain, but that's not we do. We'll carry the pain of something for years because we've decided not to face the issue(s), thus never resolving it.  I don't know about you, but I'm totally guilty of that.
I can be quick to say "Nope, I'm good" and actually mean "I'm cutting you off at this very moment" lol. Yet, there is power found in your ability to forgive but at the time, I wasn't choosing to operate in that as much as I could have. I was a bit in my flesh. Yet, eventually I had to ask myself "Was the things that happened more important than who God called me to be?" "Am I representing Christ correctly in my actions and thoughts?" "Am I functioning more like the world than a child of God?
Matthew‬ ‭18:21-22‬ ‭NASB‬‬ it states,
"Then Peter came and said to Him, "Lord, how often shall my brother sin against me and I forgive him? Up to seven times?" Jesus said to him, "I do not say to you, up to seven times, but up to seventy times seven."
‭‭
Taking this into consideration, I had a lot of forgiving to do lol. However, in order for this to take place, I had to put a halt to everything and choose to revisit past hurts and pains that I allowed myself to glide pass throughout the years. Which meant some crying had to be done. Some anger had to be released and expressed. Deeper conversations with God and other trustworthy people needed to occur to help mend what was broken.
Hey, to be honest sometimes things got real ugly but once I gave myself the opportunity to address these issues, the root of the pain was exposed and healing occurred. (Not saying that I'm completely healed of everything but I'm further along than I was!!)
I'll use a root canal as a quick example:
Your tooth gets a cavity because it was not cleaned or taken care of as much as it should have been.  There's a breach, a nerve is exposed and a recurring pain is felt. The pain gets worse and worse until you decide enough is enough. So you see a dentist to resolve the issue. So, the dentist has to go in, open up the tooth, clean out all the decay and take out all the remaining roots. Disinfect everything and place a cap or crown over it. (I know I probably missed some stuff but you get the point lol.)
I say all this to relate this to my heart and possibly yours. When problems occur and they are not taken care of sooner, the issue will get worse unless you address it. If you're not willing to take notice of the damage- reoccurring pain will begin to be felt more than you'd like. This is where the specialist aka God comes in and does His work in you to replace your damaged heart and give you a new one. One that resembles His own. Depending on your willingness, the process can be quick, but it's never painless.
Just as we have to forgive seventy times seven as previously stated in the verse above, we have to be able to allow God to heal our hearts over and over again. He is able to give you a new heart no matter how many times it's been wounded and broken. No matter how much damage has occurred. He'll hit the reset button for you as many times as you need Him to because of His love for you.
You might be at a place in your life where you assume everything is good. You might feel that if you take the time to do a heart check that you might find some ugliness there. You most definitely will, but choose to take the time to do one anyway. As a believer, this is a vital part of our walk. You can't grow to the full stature of who God has called you to be without doing it.
So, ask God to reveal those things within you that you may have become blind to.
Ask Him to show you the condition of your heart and be willing to hear and receive what He has to say.
Ask Him to heal any area within your heart that is sick because there could be jealousy present, envy, covetousness, pride, and greed among other things. Get to the root of the matter and once you do,
ALLOW GOD TO HEAL YOU!
Ezekiel 36:26 NIV
"I will give you a new heart and put a new spirit in you; I will remove from you your heart of stone and give you a heart of flesh."
Proverbs‬ ‭27:19‬ ‭NASB‬‬
"As in water face reflects face, So the heart of man reflects man."
Psalms‬ ‭51:10‬ ‭NASB‬‬
"Create in me a clean heart, O God, And renew a steadfast spirit within me."
‭‭
God looks at your heart. He sees it CLEARLY. There is nothing that can be hidden from Him. We can deceive ourselves but we can't deceive God.
Let Him do a work in you today. Yes, it might hurt a little bit but the end result will be well worth it.
Allow God to give you a new heart. And when He does, tend to it and treat it well ❤️
No, this doesn't mean that you will be able to trust everyone with your heart, but as you continue on this road called life, you will be able to find the strength to remain pure before God. Standing in who you are and proud because you're making the effort to shield your heart from becoming hardened by life circumstances.
You're better than that. And so am I!
I pray that God gives you the grace to undergo this journey, making you brave to face yourself. And that even though you will experience pain, you will also rediscover the beauty that is found inside of you.
Be Encouraged…
Thank you so much for taking the time to read my new blog post.
Below is a poem that I previously did that connects to this topic. I Hope it helps.
Please follow and like us: