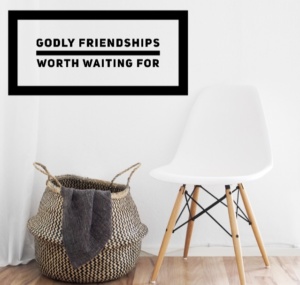 Sometimes one of the best things you could do is realize that God accepts you. It sounds so simple but a person can take a lifetime to fully understand what that means. I think each of us, at some point in life, hasn't felt accepted. You felt different like you didn't belong like you weren't wanted around. You were impeding on someone else's turf, placing a requirement that was never likely to be fulfilled. You wanted a community, a place to call home but often felt alone. It could be at your job, school, church etc you want to find someone anyone you can connect with. I've known so many people who have felt this way. They felt displaced. They felt like who they were weren't good enough to click with the "It" crowd. So they secluded themselves when they really wanted to be included. They made friends with those who may have been negative influences. They tried to find comfort in their own ability to discover a place where they could finally be themselves.
We all hope to have the opportunity to have Godly friendships. Some are easy because of family history and friendship, others just take time to develop….both can be great. However, for those who have to work a little harder, you might have to be patient. You might have to test some friendships out, you might have to let some go but, no matter what, always know that there is a friend that sticks closer than a brother…..who understands you and accepts you. From the day you were born He accepted you and will continue to stand with you through your life's journey.
Jesus is that friend. That when you cried in a corner, He was there. Where you felt alone, was there. That when you lost a loved one, was there. That when you were at your lowest, He was there comforting you but, all too often we forget about this friend. Who has been more faithful than all others. Who has been true.
Godly friendships are wonderful, they are necessary. They help you get through life. They are the seen face to face contacts that we can interact with on a day to day. But, they have their limits. They can't be your everything because God's plan for them may take them on a different path. Definitely, enjoy them & value them but don't place all your hope in them. Your hope should be in the Lord because He is the only one who will give you everything that you need.
Striving after friendships is a difficult thing, I've done it and I'm sure that on some level you have to. Value yourself enough to wait for God to bring who you need into your life, not who you'd like or even want. Be willing to shrug off past hurts and accumulated pain and open your eyes to who has always been standing right there in front of you.
Ecclesiastes 4:9-10 ESV
"Two are better than one, because they have a good reward for their toil. For if they fall, one will lift up his fellow. But woe to him who is alone when he falls and has not another to lift him up!"
You are not alone, you have a friend that promises to always be there….. you may not be able to see Him but you can sense His presence. When you fall, you will be lifted, you will be strengthened, Amen!
Please follow and like us: