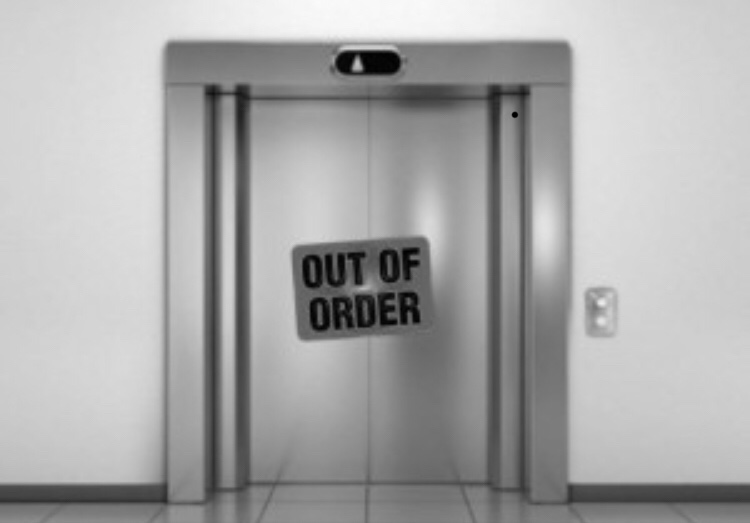 Not sure how to actually begin this new blog post but I know that this is a topic that the Holy Spirit has introduced to me.
I was sitting down talking to my husband and I was shown a vision. In this vision, I saw an elevator that had a sign on it that said "Out Of Order", and next to the elevator, there were stairs. While I was seeing these images, I was reminded of a couple of instances within my own life, when climbing up the stairs (be it indoors or out) was exhausting. I don't know about you, but I've never liked taking the stairs. It can be rather tiring. Most people would opt to forgo an uncomfortable trip up several flights of stairs if permitted. We've all grown accustomed to having an elevator as a reliable option to get us from A to Z, but what if God had purposed you to only take the stairs for a season? How would you respond?
Would you get frustrated and angry? Would you check around to see if there was another option? Or, would you wait to see if God would change His mind?
The broken elevator and the stairs are only symbols that represent how we embrace "Process". The elevator is simply the fastest and more direct way to get to the top, where your goals lie and your purpose and assignment can be fulfilled.
The stairs represent "a more strenuous journey", one that many people purposely decline to take because it will force you to come face to face with your weaknesses. The stairs have been a place where God has positioned and equipped people for His work. It's where your endurance and stamina will be built up. It's where your mental capacity will be stretched and your emotions tested. It's a place where you'll inevitably hit a breaking point but also find life-size treasures along the way. The stairs are a place where you will discover some great and not so great things about yourself. It's ultimately the time when things get real.
Proverbs 16:9 NLT
We make our plan, but the Lord determines our steps.
*God has a set path for you. It may not be an easy one, but its purpose is to help prepare you for what's to come*
On this journey, time isn't a factor because once you hit the stairs, the battle becomes an internal one. Your mind will start to wonder. Your body will ache. Fatigue will set in and you'll wish you had never begun the journey in the first place.
While being on this path, it's not time to compete and make unhealthy comparisons. It's not time to wish you wore more comfortable clothing. It's not time to think about all the things you should've done to make the trip more manageable, but it's time to look inward and lean on the one who has called you to this path.
There's nothing wrong with being tired. There's no sin in feeling discouraged. God knows when you'll stop, sit and rest, and even when you'll get weary, and He also knows when you'll cry out for His help. (That's what He expects us to do.)
I recently traveled to South Africa and on two occasions I found myself climbing up sets of stairs. On both occasions, I dreaded the fact that I had to use them just to enjoy the view at the top. I didn't know how many steps there were. It's like they just kept multiplying and not all of them were even. Some were short, some slippery and jagged. Others felt like they were missing steps in between them. (It's interesting how you can get a boost of energy along the way that will help sustain you for a while, but then next thing you know you're told your only 1/4 of the way and there are still so many more steps to go.)
I've known many who have chosen to avoid the stairs of life because they knew to some extent the price they'd have to pay. Yes, there are seasons where God will allow you to take the elevator but there are also seasons where He will require you to take the stairs. Understand that you're not less favored or less loved, but that it's a mandatory process to undergo in a Christians life.
I've had to climb many steps that I didn't see as a part of my journey and although I felt tired, discouraged and have had many setbacks, I had to set my own pace apart from everyone else's. I had to put my blinders on and choose not to stare at the achievements of others (anything more than a glance is distracting.) But, by setting and accepting my own pace, I have been able to draw strength and wisdom from the things God has allowed me to experience and use them as fuel.
Some people might move faster than you, some slower. Others might devise strategies to make their journey easier. We all do what we can to make progress, but the most important thing is to never give up.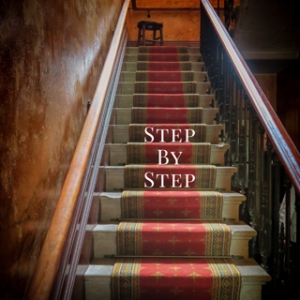 PSALMS 143:10 NASB
"Teach me to do Your will, For You are my God; Let Your good Spirit lead me on level ground."
(In this case, Lord, help lead us up these stairs lol!)
*If you really want an honest assessment of where you're at, be bold enough to take the stairs when it's required.
It's all nice and lovely taking the elevator up. You have a nice view and don't have to break a sweat, but when you get to a place where you see gum on the floor, bugs running past your feet, dripping sweat. Feeling the holes in your shoes, from being worn out by the path you've had to take. And, where the view isn't as pleasant, then you'll discover an entirely different journey, one that requires a lot of faith to see it through to the end. It's a no-fluff zone.
Really the stairs expose and drive out somethings you didn't even know were there. Although hard, it will develop you.
During this journey, you will get support from those around you, but know that your ultimate support will come from the Lord. He will sustain you and push you forward. His voice is the sound you will hear saying to take another step and to keep going. His path is the one that will grow you up and gift to you Wisdom, Power, Strength, Endurance, Character, and Value.
For some of you, you're trying to get to the other side but without having to go through the testing. And for those who prefer that route, you'll take your place in line waiting until your elevator comes. But please understand that you may go from the ground floor to the very top, and even enjoy the view, but you would've missed out on everything that was meant to develop you along the way.
I say this to say, recognize the season that you're in. If it's the season to take the elevator, then take the elevator. However, if it's the season for you to take the stairs, don't find yourself waiting in line to use the elevator.
I'm proud to say that I know many stair takers. I'm one of them. My husband is another. My friends and family are also to be included. I thank God for surrounding me with people who are going through similar seasons as I am, those who are putting in the work and learning valuable lessons about life, not only for themselves but to impart unto others.
I also thank God for those who have already made it to the top and have never forgotten those who have been called to the stairs.
Lord,
Let the stairs be a place of GREAT TRANSFORMATION, that even when we're tested, we come out as God created us to be with His attributes and qualities.
Let us come alive on the stairs. Let us see our victory and not our defeat on the stairs.
As 2 Corinthians 4:8 states "we are afflicted in every way, but not crushed; perplexed, but not despairing". If you're feeling overwhelmed at this time, meditate and get into the presence of God. Get your heart and mind right. Revise some patterns that aren't productive and keep yourself focused on the path God has set before you.
Be courageous in every aspect of your journey and don't imitate anyone else's path but begin to proudly embrace your own.
I hope this blog has blessed you.
Be encouraged and keep the faith…
Please follow and like us: